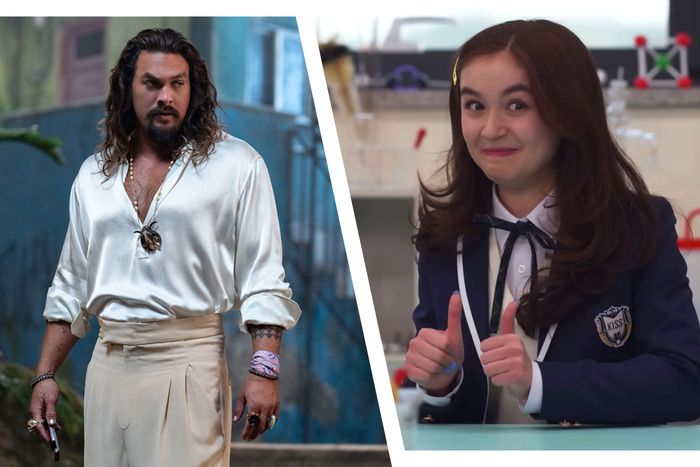 Fast X; XO Kitty.
Photo-Illustration: Vulture. Photos: Universal Pictures; Netflix
This week's theme is family. From the latest Fast and the Furious movie to a family-made documentary on the Queen of Disco to a brand-new comedy from Mike Schur and Shea Serrano, there's an emphasis in this week's movie and TV premieres on the comfort of your chosen or blood relatives. Oh, how sappy we're getting. Now, onto the rest of the picks! —Savannah Salazar
Family. —James Grebey
A spinoff of To All the Boys I've Loved Before, XO, Kitty follows Lara Jean's (Lana Condor) younger sister (Anna Cathcart) as she finds herself in her own rom-com. After wanting to be closer to her boyfriend, Dae, Kitty applies to a prestigious school in South Korea. It's a fizzy, fun series to follow up your Queen Charlotte binge. —S.S. 
➽ It's John Corbett's big year: First in XO, Kitty; then Aiden returns to And Just Like That …; and, to top it off, My Big Fat Greek Wedding 3 hits in September.
Loosely based on author Shea Serrano's own upbringing in Texas and co-produced by Mike Schur (of The Good Place, The Office, and Parks and Recreation), Primo is a cute new Freevee comedy exploring a young teen's (Ignacio Diaz-Silverio) coming of age. While navigating college applications and teen crushes, Rafa must also juggle his mother (Christina Vidal) and five tíos, who are as endearing as they are overbearing. It's a pleasant little series. —S.S. 
White men can't jump, but can white men (a.k.a. Jack Harlow) act? Apparently so. In this remake of the 1992 comedy, this time written by Kenya Barris, Harlow and Sinqua Walls star as Jeremy and Kamal, a duo looking to win the top prize in a basketball competition. The film even features one of the late Lance Reddick's last performances, as he plays Kamal's father. —S.S.
This HBO documentary details the Queen of Disco's highs (and lows) through the eyes of her, her kids, and all those around her orbit at the time. With audiotapes, photographs, and extensive footage of the singer, directors Roger Ross Williams and Summer's daughter Brooklyn Sudano weave a fascinating portrait of the famed singer and her genius. —S.S. 
➽ By the way, it's your last week to enjoy the HBO in HBO Max before the service becomes just Max (and loses that amazing purple gradient that maybe only I am sad about).
Netflix's reality game is pretty good. To follow up that messy recent Love Is Blind reunion, it's serving up a new season of mess with Selling Sunset, a show set in L.A. as a group of realtors sell to high-class buyers. Season six introduces two new realtors, Nicole Young and Bre Tiesi, to the mix. —S.S.
The Leftovers and Watchmen were, in retrospect, tame compared to Damon Lindelof's latest show, Mrs. Davis, which streamed its final episode on Peacock this week. It's certainly zanier than either of those (admittedly very zany) series, but nothing in them can hold a candle to the truly unexpected reveal that kicks off the finale. What a bonkers — and ultimately very sweet and smart — show. —J.G.
➽ Man, I could go for some wings. 
Okay, listen. Yes, The Legend of Zelda: Tears of the Kingdom is a video game and not something we'd typically include in our weekly roundup of things to stream. (There are tons of people streaming their experiences playing the game, though, if you want to watch.) However, TOTK actually makes for a surprisingly great pairing with Fast X because some of the physics and puzzle-like vehicle shenanigans in the new movie are very Zelda-core. There's one moment in Fast X involving a car, a rolling bomb, and a crane, that had me expecting Zelda's "puzzle jingle" when Dom figured out how to solve it. —J.G.
➽ If you're looking for an actual movie to double-feature this week, sadly, Fast Five is not streaming anywhere — which is a bummer because Fast X is, like, a direct sequel — but it is available on TBS if you have something called "linear cable"? Idk. 
Finally, after months of just that one press still of Leo sitting at a table, we have a trailer for Martin Scorsese's Killers of the Flower Moon. The trailer, which looks great, is just under two minutes long, meaning that by having viewed it you have now seen almost one percent of the three-hour-and-26-minute film. —J.G.
➽ It's unclear how many more titles Netflix will save from cancellation now that the streaming bubble has burst, but thank goodness it rescued Nimona, one of the most anticipated animated movies of the year, from Disney's graveyard. The first trailer is out now.
There's no werk room in the Queen of Drag's house, but there are 26 — I repeat, 26 — disco balls in her living room. —S.S.
I don't know about y'all, but I'm ready for Bad Bunny Summer, round two. —S.S.
Keith Urban accidentally hard-launches Phoebe Bridgers and Bo Burnham at a Taylor Swift concert (a wild sentence), Neil Gaiman switches up his dress code for the WGA strike, and celebs recite their favorite Housewives taglines.
Want more? Read our recommendations from the weekend of May 12.


2023-05-19 16:33:21